Carmelite Monastery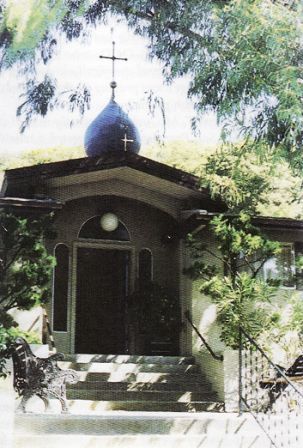 of the
Mother of God
San Rafael, CA
A Brief History of the Carmel of the Mother of God
Our Carmel ws founded on November 24, 1965, from the Carmelite Monastery at Carmel-by-the-Sea. There were 10 of us for this venture, several years before we actually made the foundation. We had been inspired by Mother Miriam of the Trinity, OCD, who received a supernatural call to found a Carmel specifically to respond to Our Lady of Fatima's message about praying for the conversion of sinners and for the Russian people.
Archbishop Joseph T. McGucken graciously invited us to the Archdiocese of San Francisco and suggested a reliable contractor of his acquaintance to build a small Monastery for us. After some months of anticipation, we finally arrived on a very rainy day, and quickly moved in!
The next years were filled with great activity and enthusiasm. We continued to learn the Byzantine Liturgy, which we were priviledged to sing, when two Jesuit Priests of the Eastern Rite, Fr. Andrei Urusov, SJ, or Father Karl Patzelt, SJ, from the Russian Catholic Parish of Our Lady of Fatima, would come to preside.
In those early days, we hoped and prayed that we would be able to make a foundation in Russia. However, even before that, Fr. Louis Bouier, on a visit to us, suggested that perhaps we should make a foundation in Finland, since the ´Iron Curtain´ made Russia impossible. Mother Virginia and another Sister felt strongly called to follow this suggestion, and in 1988, on November 7th, a foundation there was successfully established.
Wehn the mircle of the downfall of Communism took place, two of our Sisters opened a tiny ´foundation´ in Moscow...finally fulfilling our dream of a presence in Russia. However, after several years, it became apparent that this venture was impractical, due to the impossibility of purchasing property in the countryside and of sending more sisters to Russia. The Divine Word Missionary Fathers purchased our apartment "Monastery" and eventually also bought a nearby buildin, thus establishing St. Olga's Catholic Parish in downtown Moscow. We have been giving this "Parish" our prayerful and practical support ever since.
At this time in our history, Our Lady's plea at Fatima is being answered byt the international flavor of our present community. It consists now of four American Sisters, one Sister from England, one Sister from Africa, and one Sister from the Phillipines.
On the home front, we began very early in our presence here to plant redwood trees to create a place of peace and quiet. We now have a glorious "forest" of over 400 redwood trees. They provide a beautiful area for prayer and peaceful solitude for our enclosure.
We have also developed a "desktop printing" enterprise, which has been very helpful as a means of support. Our home ´office´ is gradually becoming more and more efficient, providing us with an opportunity for the artistic and technical gifts of the Sisters. We are grateful for the opportunity to provide this service to our friends and neighbors.
Also, as is evident in our guet quarters, our "canning industry" is growing and becoming each year more diversified.
We depend entirely on the loving support of those who come to our Chapel for prayer or who write to us. We pray with all our hearts for all who request our prayerful intercession for all their special intentions. We trust in God, and especially in our Patroness, the Mother of God, to continue to lead us on the way she has chosen for us. She calls future members of our own nation and others throughout the world. We pray for the Russian people, and for ST. Olga's parish in Moscow. This parish includes our former apartment there, where many Russian people received their first religious education and where and Icon of the Infant Jesus, painted by Mother Miriam, our Foundress, is still honored.
May He, and His Most Holy Mother bless us all and grant us the grace to fulfill our Lady of Fatima's request to pray for the whole world.